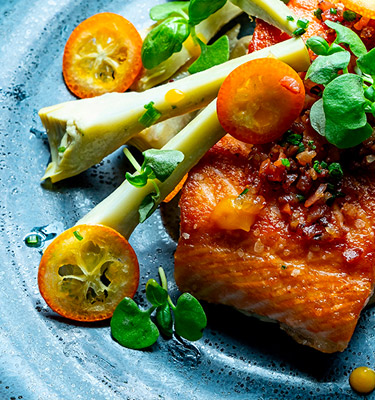 Harrimans
Using only the freshest ingredients, Harrimans features a local bounty of bold and flavorful dishes celebrating the rich resources and history of Virginia's most fertile region. The menu highlights seasonal flavors, local butcher's cuts, fresh seafood and imaginative desserts. On Sundays, the dining room comes to life with a grand family-style multi-course brunch.
Whether you are enjoying a lively dinner with friends in our dining room, hosting a private chef's dinner in our Cooking Studio, taking a pre-dinner stroll through the Culinary Garden or relaxing with an after dinner cordial by our fire pit, at Harrimans, it always feels like Saturday night.
Valet parking will be validated with reservations at Harrimans.
Parties of eight or more are required to dine off of our Chef-selected pre fixe menu. Please call 866.888.5124 to reserve.
No Show & Cancellation Policy
Failing to cancel a reservation 48 hours in advance, regardless of party size, is subject to a cancellation fee of $50 per person.
Staff Carousel
FOOD & BEVERAGE DIRECTOR
Bill Welch
Impassioned about food, community and service, Chef Bill Welch started his culinary career at a young age.
He enrolled in the Culinary Institute of America in Hyde Park, NY, where he graduated with a Bachelor's degree in Hospitality Management and an Associate's degree in Culinary Arts.

Bill began his professional career at the Wequassett Resort and Golf Club in Chatham, MA, under Executive Chef Bill Brodsky. He spent six years at the resort, eventually becoming Chef de Cuisine of The Outer Bar and Grille, and Sous Chef at Twenty-Eight Atlantic, the resort's signature restaurant.

In 2009, he joined the Forbes Five-Star rated Sea Island Resort in Georgia, where he would shine in a variety of positions over the next decade. In addition to serving in culinary leadership positions at Tavola and the Georgian Room restaurants, he also became the resort's Executive Chef of Events, leading to positions as Executive Chef of both The Cloister and Beach Club and The Lodge at Sea Island Golf Club.

He joined Salamander Middleburg as Executive Chef in 2020 and was promoted to Director of Food & Beverage in 2022. He oversees culinary operations at numerous outlets, including Harrimans Grill, Gold Cup Wine Bar and Market Salamander, as well as the resort's renowned banquet operations and interactive Cooking Studio.

Always looking to grow personally and professionally, he is currently studying for a Masters in Food Business at the Culinary Institute of America.
EXECUTIVE PASTRY CHEF
Jason Reaves
Born and raised on a farm in Purcellville, VA, Chef Jason Reaves developed a love for food at a young age. Learning how to cook and bake from his mother and grandmother, Jason's began to check out every cookbook he could find at the local library to further hone his skills.

After entering baking competitions throughout his childhood, Jason enrolled at Monroe Technical Center in Leesburg, VA for Culinary Arts during his junior and senior year of high school. During that time, he worked in the pastry kitchen at Lansdowne Resort in Leesburg, VA, where he trained under Pastry Chef Ricardo Murillo, who inspired him to attend culinary school.

Upon graduating from the Culinary Institute of America in Hyde Park, NY in 2004 with an Associate of Occupational Studies degree in Baking and Pastry Arts, he began his professional career with Norwegian Cruise Lines in Hawaii as an entry level pastry cook. After many promotions, he became the Assistant Chief Pastry Chef of the cruise ship, "Pride of America," where he met his wife Nicole.

After spending time working in Hawaii, California and New York and receiving numerous newspaper clippings from his mother about the future Salamander Resort & Spa, Chef Reaves returned home and became the pastry chef for Market Salamander in 2005. Jason was quickly noticed for his elaborate cake designs, and competed on many Food Network shows, including Sugar Dome, Halloween Wars and won first place on LEGO Cakes, King of Cones and Freakshow Cakes. When Salamander Resort & Spa opened in 2013, Jason became the Executive Pastry Chef, where he and his team provide all of the desserts and cakes for the resort and Market Salamander.

Family being a big part of his life, Jason feels fortunate to be raising his family and building his career where he grew up. He and his wife Nicole currently reside in Hamilton, VA with their two sons, Nolan and Calvin, and daughter Madeline.
EXECUTIVE SOUS CHEF
Jose Linares
Born and raised in San Salvador, El Salvador, Harriman's Chef De Cuisine Jose Linares, grew up enjoying an abundance of street food, traditional house-made recipes, hearty fresh vegetables and tropical fruits.

Jose moved to the US when he was 16 years old and attended Monroe Technology Center in Leesburg, VA during his Junior and Senior year in high school. During that time, Jose participated in an exchange program with a sister school in Frankfurt, Germany. This helped him hone fundamentals of European cooking techniques

Jose went on to attend Stratford University, graduating with a Bachelor's degree in Culinary and Hospitality Management. While in school, Jose started his professional career with the luxury brand Four Seasons Hotels in Washington DC. Jose then began working as a prep cook at Bourbon Steak by Michael Mina. Jose quickly climbed the culinary ranks until he became a Sous Chef in 2019.

Jose's professional career has taken him all over the globe to various luxury properties including Jumeriah Beach in Dubai.

Chef Jose joined Salamander Resort & Spa's culinary team in December 2020 as Chef de Cuisine of Harrimans Grill and was promoted to Executive Sous Chef in December 2022, the Resort's Fine dining restaurant. He brings with him a unique approach to food utilizing pristine local ingredients and influence from international cooking techniques.
HEAD BAKER
Jean Baptiste-Lawson
A native of Paris, France, Jean Baptiste-Lawson developed a love of baking a decade ago and has since honed the art of bread making.

Chef Jean attended the French baking school École Professionnelle de Boulangerie et Patisserie, in Champigny-sur-Marne, where he specialized in learning the production of artisan breads, gourmet pastries and chocolates. He then moved to the United States in 2015 to begin his career as a baker at Fresh Baguette in Rockville, Maryland where he was responsible for mixing, shaping and baking bread and pastries.

Joining Salamander Middleburg and Market Salamander's pastry team in July 2021, Chef Jean is responsible for all of the bread that is used in various dishes at the resort and sold at the Market.