Back to Event Calendar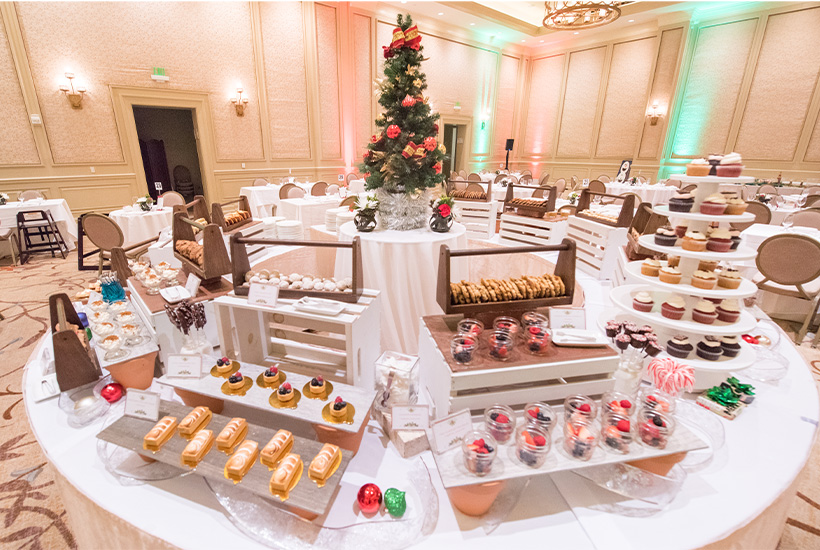 Middleburg Ballroom
Christmas Day Grand Brunch
December 25 | 10:00 AM - 2:00 PM
Join us for a grand Christmas Day brunch buffet which will have all of the holiday favorites including an omelet and Belgian waffle action stations, carving stations, and an extravagant offering of sweet treats and much more. A children's buffet is also available.
$125 per adult, $45 per child. Excludes tax and gratuity. Reservations required. To reserve, please call 866.888.5124.

Starters and Salads
Individual Caesar Salads, Shaved Parmesan, Garlic Croutons, Anchovy vinaigrette

Individual Crudites, Rainbow Carrots, Carnival Cauliflower, Celery Batons, Cucumber Batons, Green Goddess

Local Lettuces with Fruits and Vegetables
Cucumber, Medley Tomato, Shaved Carrot, Pickled Red Onion, Sunflower Seeds, Candied Pecans, Gorgonzola, Smoked Cheddar, Crispy Bacon
Spiced Bourbon Vinaigrette, Cranberry Orange Balsamic, Maple Dijon Vinaigrette
Individual Baby Beet Salads, Goat Cheese, Aged Balsamic, Arugula

Smoked Salmon Display
Egg Mimosa, Chives, Pickled Shallot Jam, Caperberries, Frisée
Mini Everything Bagels, Whipped Cream Cheese and Crème Fraiche
Miniature Avocado Toast, Multigrain Bread, Cranberry, Toasted Pecans

Omelet Station
Maryland Crab, Maine Lobster, Virginia Country Ham, Scallions, Red Onions, Baby Spinach, Gruyere, Tillamook, Broccoli, Medley Tomato, Chicken Sausage, Neuske's Bacon

Belgian Waffle Action Station
With Assorted Toppings
Buttermilk Chicken Tenders, Collard Greens, Candied Bacon
House-made Hot Sauce, Maple Syrup, Spiced Virginia Apples, Blueberries, Strawberries,
Whipped Cream, Chocolate Sauce, Chocolate Chips and Raspberries

Ravioli Station
Wild Mushroom Ravioli, Beurre Blanc, Sottocenere Cheese, Maitake Mushrooms, White truffle oil
Fall Squash ravioli, Beurre Blanc, Brown Butter roasted squash, Parmesan Cheese

Maryland Crab Benedict Action Station
Griddled English Muffins And Gluten frees toast
Villacro Farm Eggs, Maryland Crab, Smoked Salmon, Hollandaise

Carving Stations
Winter Spiced Standing Rib Roast, Caramelized Onion and Black Truffle Jus
Bourbon Glazed Country Ham, Whole Grain Mustard Jus
Chestnut and Cranberry Stuffing
Classic Potato Puree
Proteins
Pan Roasted Scottish Salmon, Maple and Orange Butter

Sides
Butternut Squash Soufflé, Caramelized Pecans and Toasted Marshmallow
Haricot Vert and Mushroom Casserole, Pickled Cranberries
Roasted Brussel Sprouts With Blue Cheese and Bacon
Sorghum Braised Collards and Country Ham
Duck Confit Cassoulet, Beluga Lentis, Root Vegetables

Kids Buffet
Iceberg Salad and Ranch Dressing
Chicken Fingers, Curly Fries and Honey Mustard
Pan Seared Chicken Breast
Mac and Cheese
Peanut Butter and Jelly
Broccoli and Baby Carrots
Fruit and Berry Display
Artisan Breads and Breakfast Pastries Display
Buttery Croissants
Pumpkin Cheesecake Danish
Maple Pecan Glazed Cinnamon Rolls
Pain Au Chocolat
Muffins
Baker's Selection of House-made Baguette, Brioche, Rustic Loaves and Soft Rolls

Pastry Chef Attended Hot Chocolate and Crepes Station
Whipped Cheesecake, Lemon Curd, Nutella, Fresh Berries, Whipped Cream
Valrhona Hot Cocoa
Whipped Cream
Candy Canes, Holiday Sprinkles, Jimmies, Candies, Cookie & Brownie Crumbles

Desserts
Dark Chocolate Candy Cane Mousse
Raspberry White Chocolate Verrine
Chocolate Cherry Tartlets with Whipped Pistachio Ganache
Mini Pecan Pies with Chantilly Cream
Pumpkin Cheesecake Bars
Chocolate Cupcakes
Red Velvet Cupcakes
M&M Blondie Bars
Pastry Chef's Selection of Holiday Cookies

$125 per adult, $45 per child. Excludes tax and gratuity. Reservations required. To reserve, please call 866.888.5124.