About Us
Salamander Resort & Spa is a timeless destination, located in historic Middleburg, Virginia. This quintessential town is steeped in equestrian traditions, and easily accessible to Washington, D.C. The Forbes Five-Star and AAA Five-Diamond resort is the ultimate place of discovery and the epitome of luxury, combining artfully designed facilities with unparalleled experiences, all resting on 340-acres framed by the Blue Ridge Mountains, lush vineyards, and horse farms.
Overview
Salamander Resort & Spa is found in the charming and historic small town of Middleburg, Virginia. The charismatic Forbes Five-Star and AAA Five-Diamond resort features 168 guestrooms and suites all with scenic views of the countryside. Truly dedicated to health and wellness, a 23,000-square-foot spa presents 14 treatment rooms and a private outdoor courtyard with a heated pool. In addition, Salamander has built one of the finest equestrian facilities and programs in the country with 25 on-site acres dedicated to riding and a 14,000-square-foot stable. The culinary program also does not disappoint with the rustic Harrimans Virginia Piedmont Grill, a multi-experience cooking studio, well-appointed wine bar, and jovial billiards room. Also offering zip lining, tennis, nature hikes, archery, and an abundant amount of other outdoor activities, the adventures are endless.
Guest Information
Check-In: 4:00 p.m.| Check-Out: 11:00 a.m.
Reservation Hours: Monday - Friday 8:00 a.m. - 7:00 p.m. | Saturday - Sunday 8:00 a.m. - 6:00 p.m.
View Resort Map
History & Culture
Middleburg was established in 1787 by American Revolutionary War Lieutenant Colonel and Virginia statesman, John Leven Powell. He purchased the land for Middleburg at $2.50 per acre from Joseph Chinn, a first cousin of George Washington. It had been called "Chinn's Crossroads", and was then called Powell Town. When Leven Powell declined to have the town named after him, the town was called Middleburgh, and later, simply Middleburg. The village is located midway between the port of Alexandria and Winchester, Virginia, on the Ashby Gap trading route (now followed by U.S. Route 50).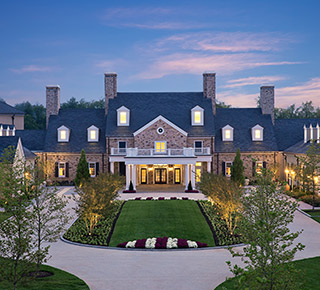 In 1863, Middleburg witnessed two skirmishes during the Gettysburg Campaign of the Civil War, giving it a place in that important historical period.
From the early 1900s, Middleburg began welcoming visitors who participated in foxhunting and steeplechasing. The village soon earned a reputation as the "Nation's Horse and Hunt Capital", attracting prominent visitors from across the U.S. Middleburg is the home of the National Sporting Library research center for horse and field sports and its recently opened art gallery and museum.
In 1961, civil rights activists pressed John F. Kennedy on local segregation issues during his residency outside town. His wife, Jacqueline Kennedy (an avid equestrian), and their children were pictured riding on Pamela Harriman's estate during his time in office.
The Middleburg Historic District, comprising the 19th-century center of town, is listed on the National Register of Historic Places, as is the Red Fox Inn, the oldest building in town, and billed as the oldest continually operated inn in the U.S.
Middleburg was recognized in 2008 for its historic preservation efforts by being designated a Preserve America Community by then-First Lady Laura Bush.
The Mystique of Middleburg and its surrounding estates have captivated many well-known personalities from the Kennedys, Elizabeth Taylor, Robert Wagner, and Oliver North - all of whom have called Middleburg home. A peek behind the grand stone entrances of massive estates with names such as "The Meadows" or "Heathfield" that belong to families such as the Firestones, Mellons, and Marriotts, attending one of the numerous equestrian events in the area, including the oldest horse show in the country, or spending a day touring any of the nearby 30+ wineries allows visitors a chance to understand just a little of the gracious equestrian and country lifestyle that residents have come to treasure.
Residences at Salamander
When Sheila Johnson, one of America's foremost business leaders, created Salamander Resort & Spa in Middleburg, Virginia, her vision included a community of residents fully connected with the vibrant life of the resort. Thoughtful amenities, impeccable service, and a truly creative approach to the guest experience have resulted in Washington, D.C.'s only Forbes Five-Star status. resort.
Now, we are pleased to present a rare opportunity for private ownership. Nestled in the heart of horse and wine country, Residences at Salamander is a curated collection of estate homes set within the grounds of the acclaimed 340 acre Salamander Resort & Spa. Whether you're a frequent resort guest or a first-time visitor, we invite you to join our community and call Residences at Salamander home.
To learn more, visit residencesatsalamander.com.