Back to Event Calendar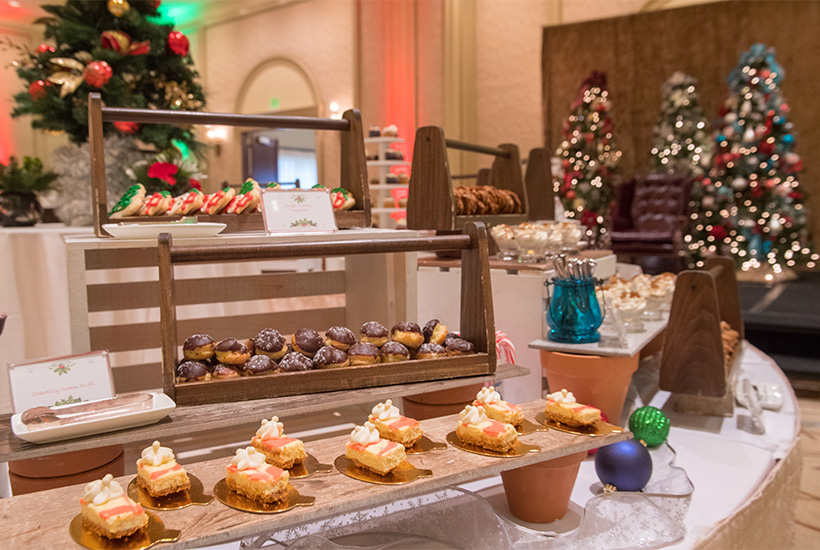 Middleburg Ballroom
Brunch with Santa - Dec 10
December 10 | 10:00 AM - 2:00 PM
Seatings are available on Sunday, December 10 and Saturday, December 16.

Our ballroom transforms into a winter wonderland where you can visit Santa and his elves while enjoying a delicious brunch with sweet and savory holiday favorites for the entire family. The brunch also features a make-your-own holiday craft and photo opportunity with Santa!
$125 per adult, $45 per child, excludes tax and gratuity. Reservations required. To reserve, please call 866.888.5124.
MENU
Chilled Seafood Display
Ice Sculptures
Chilled Shrimp, Cocktail Sauce with Lemon
Island Creek Oysters, Mignonette
Snow Crab Cocktail, Louie Sauce
Bluefin Tuna Poke, Wonton, Scallion, Sesame, Wakame, Siracha Mayo
Chilled Appetizer Station
Miniature Avocado Toasts, Blood Orange , Dill
Christmas Colored Deviled Eggs
Individual Pimento Cheese and Rosemary Flatbread
Virginia Cheese and Charcuterie Display
Soup and Salad Station
Butternut Squash and Apple Cider Soup, Vanilla Scented Apples
Baby Spinach, Cranberry Vinaigrette, Goat Cheese, Marcona Almonds
Salamander Caesar Salad, Garlic Croutons, Shaved Parmesan, Anchovy Vinaigrette
Fresh Sliced Fruit and Berries Display
Chef Attended Omelet Station
Cage-Free Eggs, Egg Whites
Country Ham, Maryland Crab, White Shrimp
Bell Peppers, Broccoli, Mushrooms, Spinach, Red Onions
Cheddar, Swiss Cheese and Pepper Jack
Cage-Free Scrambled Eggs, Garden Chives, Amish Butter
Breakfast Hot Line
Classic French Toast, Cream Cheese Glaze, Toasted Pecans, Virginia Maple Syrup
Buttermilk & Blueberry Pancakes and Virginia Maple Syrup
Crispy Smoked Bacon and Maple Chicken Sausage
Chef Attended Carving Station
Scottish Cedar Plank Salmon Carving, Herbed Beurre Blanc
Carved Bone-in Beef Rib Roast, Bordelaise
Baby Carrots
Baby Turnips
Potato Puree
Carving Rolls
Artisan Breads and Breakfast Pastries Display
Baker's Selection of House-made Breads and Rolls
Buttery Croissants
Pumpkin Cheesecake Danish
Maple Pecan Glazed Cinnamon Rolls
Pain Au Chocolat
Muffins
Pastry Chef Attended Hot Chocolate
Valrhona Hot Cocoa
Whipped Cream
Assorted holiday sprinkles and toppings
Desserts
Dark Chocolate Candy Cane Mousse
Raspberry White Chocolate Verrine
Chocolate Cherry Tartlets with Whipped Pistachio Ganache
Mini Pecan Pies with Chantilly Cream
Mini Pumpkin Cheesecakes
Chocolate Cupcakes
Red Velvet Cupcakes
M&M Blondie Bars
Pastry Chef's Selection of Holiday Cookies-Cranberry white chocolate cookies,
Shortbread cookies, Ice box cookies, Holiday Sugar cookies, Gingerbread men , Pecan Snow Balls