Back to Event Calendar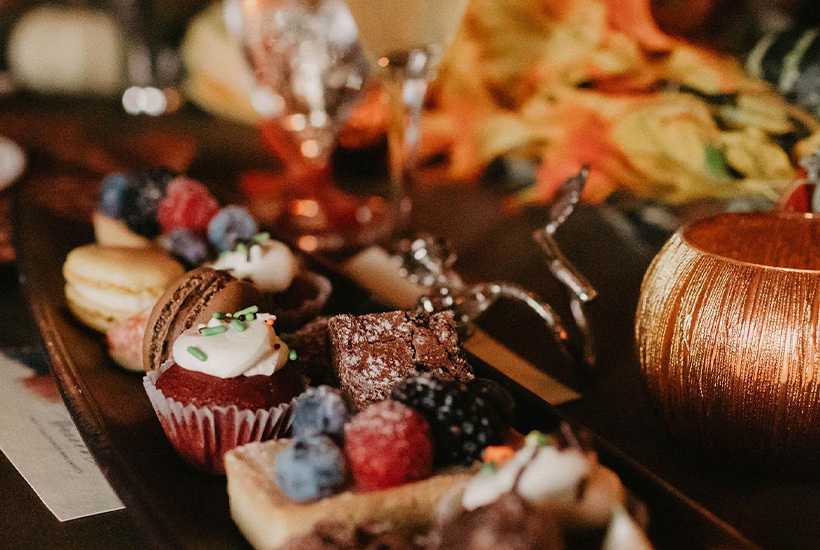 Middleburg Ballroom
Grand Thanksgiving Buffet
November 23 | 12:00 PM - 5:00 PM
Give thanks this holiday and join us for an elaborate Thanksgiving buffet! Indulge in a cornucopia of flavors, featuring an elaborate raw bar display, traditional turkey and gravy, bourbon pineapple glazed Virginia ham, an endless array of delectable desserts and so much more.
$125 per adult, $45 per child. Reservations required. To reserve, please call 866.888.5124.
Raw Bar Display
Island Creek Oysters, Poached Shrimp, Poke Tuna
Cocktail Sauce, Green Peppercorn Mignonette, Horseradish, Lemons, Saltines Crackers
Soup
Butternut Squash Soup, Roasted Pumpkin Seeds
Salad and Appetizers
Individual Shaved Brussel Sprout Salad, Bacon Vinaigrette, Blue Point Reyes Cheese
Butternut Squash & Wheat Berries with Baby Spinach, Herb Vinaigrette
Baby Kale, Crispy Chickpeas, Carrot Ginger Dressing
Individual Fruit and Berries with Greek Yogurt
Local Artisan Greens
Cucumber, Medley Tomato, Grilled Corn, Picked Beets, Spiced Pecans, Dried Cranberries Tillamook Cheddar
Cranberry Orange Vinaigrette, Zesty Ranch Dressing, Pumpkin Maple Dressing
Artisan Bread Display
Virginia Cheese and Charcuterie Display
Cheese's from Locksley Farmstead, Village Cheeseworks, Goot Essa
Charcuterie from Chapel Hill Farms and Country Ham from Edwards Smokehouse
Salamander Honey, Whole Grain Mustard, Pepper Jelly, Cornichons, Pimento Cheese, Pates
Chef Attended Stations
Lobster Ravioli, Classic Sauce Americaine
Winter Harvest Salad, Radicchio, Baby Arugula, Charred Avocado, Farro, Picked Squash, Hazelnut Parsley Vinaigrette
Bourbon Pineapple Glazed Virginia Country Ham and Roasted Green Circle Turkey's
Traditional Turkey Gravy, Cranberry Chutney
Potato Purée, Amish Butter and Chives
Traditional Stuffing Muffins
Proteins, Vegetables, and Sides
Sear Salmon, Fennel Glaze, White Matelote Sauce
Turkey Thigh Pot Pie with Black Truffle and Root Vegetables and Biscuits
Green Bean and Wild Mushroom Casserole, Crispy Onions
Candied Yams with Marshmallow
Baby Carrots, Cinnamon Butter
Roasted Winter Squash
Kids Buffet
Iceberg Salad and Ranch Dressing
Chicken Fingers, Curly Fries and Honey Mustard
Mac and Cheese
Peanut Butter and Jelly
Baby Carrots
Dessert
Mini Pumpkin Pies, Chantilly Cream
Mini Pecan Pies, Chantilly Cream
Dark Chocolate Mousse, Chantilly Cream (GF)
White Chocolate Caramel Parfait, Biscoff Crumble
Pumpkin Chip Cupcakes, Whipped Cream Cheese Frosting
Chocolate Cupcakes
Peanut Butter Cup Tartlets
Fall Spice Citrus Tartlets, Toasted Meringue
Vanilla Bean Cheesecake Crumble Bars
Cinnamon Apple Turnovers
Maple Frosted Sugar Cookies
Chocolate Chunk Cookies
Double Chocolate Cookies (GF)
Toffee Cookies
$125 per adult, $45 per child. Reservations required. To reserve, please call 866.888.5124.